Weldehaven Farms has concentrated for the last fifteen years on Fleckvieh Simmental genetics. Now all of the bull and heifer calves registered are 100% Fleckvieh. We also have a good supply of Full Fleckvieh embryos for sale. As well, we have a good inventory of semen from over 60 different old Full Fleckvieh bulls for sale. Please call or email if you would like more information.
The 2004 calf crop is from the following sires:
(1) DEK Western Leader 101E (FF) Our Herd Sire. 2** Trait Leader!!
CBII
X Bold Leader
(2) Great Guns Karl (Full Fleckvieh)
(3) Irish Rover (FF)
(4) BEL Western Union 5Z (FF)
(6) PRL Porterhouse Regent (FF)
(7) BHL Western 36R (FF)
(8) DEK Mr Antony
(9) SV Bavarian 7C
(10) Anchor "T" Legend 7H
(11) Klondike Arnie 250Z
(12) Sir Arnold S4012
(13) Great Guns Konan
(14) Laki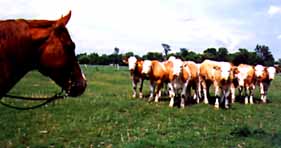 A group of bred heifers on pasture.
As always, we raised heifers for replacements which are available for viewing and for your purchase.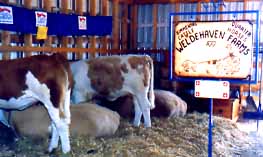 Our cattle to be shown at the local fair.
Fleckvieh(flek)(vay)
English translation 1. Spotted Animal
Shouldn't you have Fleckvieh in your herd?