Weldehaven Farms is a family owned by Mr & Mrs Andrew Welden and their two daughters,their pride and joy, Emily and Rebecca Welden.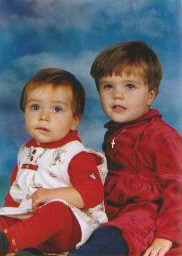 Weldehaven Farms became a member of the C.S.A in June 84. A member of the A.S.A in January 1997. We started registering cattle in 1985 with the letter "S" Therefore this calf crop will be twenty one years
in the business. I was a director with the Quebec Simmental Association for six years, serving two years as President. Weldehaven Farms has concentrated for the last fifteen years on Fleckvieh Simmental genetics.
Weldehaven Farms has won several awards over the years: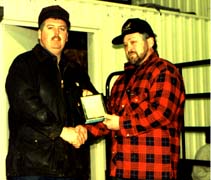 Andrew Welden of Weldehaven farms winning the plaque from Yves Bourassa of the Quebec Simmental Association. The award was for the best overall Simmental bull at the Vinoy Bull Test Station. Weldehaven Karl Crown a Karl son with a global index of 116.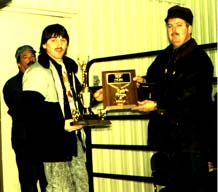 Andrew Welden receiving the plaque from Francois Naud of C.A.B Papineau for the highest inter-race bull coming from A.I. Once again for Weldehaven Karl Crown.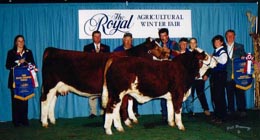 "Grand Champion Female" 1999 Toronto Royal Agricultural Winter Fair "Weldehaven Polled Prime Red" with her 1999 bull calf by our own herd bull "DEK Western Leader" Both mama and baby bred by Weldehaven Farms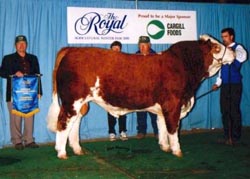 Mr Michelin
DEK Western Leader X Weldehaven Polled Prime Red
2000 Junior Bull Champion Toronto Royal Agricultural Winter Fair.
Mr Michelin bred by Weldehaven farms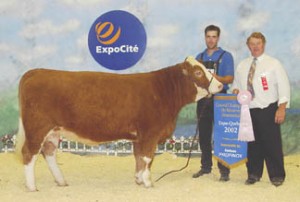 Weldehaven Miss Legend 2L
Anchor T Legend 7H X Weldehaven Ms Bold 19J
Reserve Grand Champion Female at Expo-Québec 2002
Weldehaven Farms
2003 Winner of the banner of the Best Simmental Bull
at the Vinoy Test Station